Postdoctoral Researchers
Yuko KITANO, Ph.D.
1. Education and Experience
Apr 2014–: Post doc researcher at University of Miyazaki
Apr 2009–Mar 2014: Ph.D. candidate at Graduate School of Science, Kyoto University
Apr 2007–Mar 2009: Master student at Graduate School of Science, Kyoto University
Apr 2006–Mar 2007: Research student at Field Science Education and Research Center, Kyoto University
Apr 2002–Mar 2006: Undergraduate student at Faculty of Science, Nara Women's University
 2. Research interests
I. Population genetics of the coral genus Pocillopora (Pocilloporidae, Scleractinia).
– How much do their larvae drift tamong population?
 – Do they expand their distribution with rising sea surface tempreture?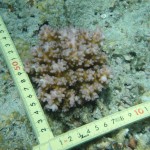 Pocillopora damicornis in Sekisei Lagoon.
II. Molecular phylogeny and morphological taxonomy of the coral families Dendrophylliidae and Poritidae.
– How many species they have?
 – How they reproduce sexually?
Left: coral of the Dendrophylliidae – Tubastraea micranthus (green) and Tubastraea coccinea (orange).
Right: coral of the Poritidae – Goniopora stokesi.