2018/09/28 published
↑Hitoshi Fukazawa delivering his presentation on his overseas plans.
Thirteen students from the University of Miyazaki were chosen to participate on the TOBITATE! (Leap for Tomorrow) Study Abroad Initiative scholarship program that is organized by the Ministry of Education, Culture, Sports, Science and Technology (MEXT) together with private-sector partners. For this most recent selection of scholarship recipients, the University of Miyazaki ranked 10th nationwide for the number of students selected and 8th among national universities.
↑ Hisashi Kawano, international coordinator at UoM's Center for International Relations, explains the selection results.
The director of the Center for International Relations (and Vice President for International Affairs), Dr. Toshiaki Itami, and the Center's International Coordinator, Mr. Hisashi Kawano, presented the TOBITATE! Results to President Ikenoue and the university Directors and Vice Presidents on June 28.
↑ Toy Takeda making a presentation on his future TOBITATE! Activities.
At the presentation event, Hitoshi Fukazawa and Toy Takeda each made presentation about their overseas plans under the TOBITATE! scholarship program. They enthusiastically explained how their plans will not only benefit their own careers but also contribute to the future of Miyazaki and Japan.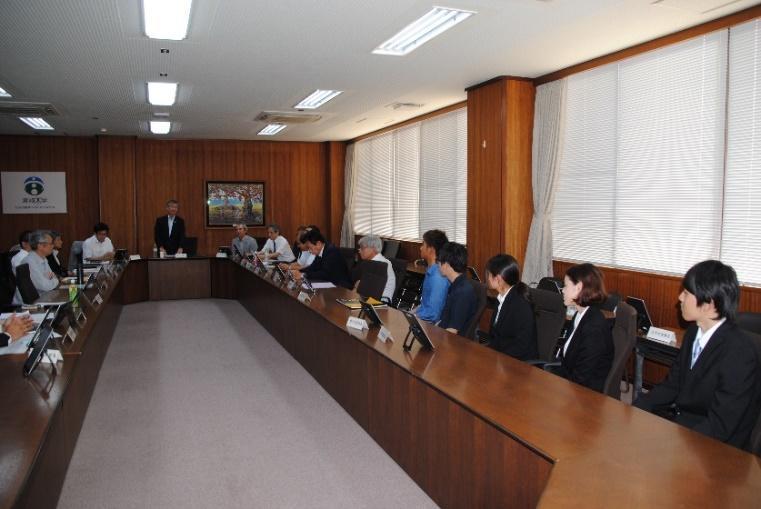 ↑ President Ikenoue encourages the TOBITATE! scholarship participants.
President Ikenoue, in his remarks at the event, encouraged the scholarship participants and expressed his hope for students to go out into the wider world in order to develop themselves, reflecting the university slogan: "Look at the world, start with the community."