2017/06/16 published
On June 11 the Muslim Community of Miyazaki (currently chaired by a UoM international student) held its annual Ramadan Tent event.
The event has been growing year after year, and this time around 300 people took part, including international and Japanese students, professors and university staff, and members of the local community.
The Islamic Center at the University of Miyazaki was opened in 2014 as the only faciliyt of its type at a national university in Japan. For Muslim students at UoM, who represent around a third of all international students, the facility has become indispensable.
At the event, members of the Muslim Community of Miyazaki served Halal dishes from their country as a way of showing their appreciation to their classmates, professors, and friends in Miyazaki.
Guest speakers from the Arabic Islamic Institute in Tokyo were invited to the event and provided lectures on Islamic culture. The Ramadan Tent provided a great opportunity for participants to learn more about Ramadan and also interact with each other.
Students preparing Halal dishes.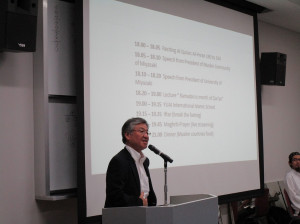 President Ikenoue delivers his remarks.
A view of some of the prepared dishes.
Participants enjoying the Halal meal.