2017/06/16 published
On June 13, 2017, a Global Issue Poster Session event was held at the San-San Maru Building on the Kibana campus of the University of Miyazaki. At the event, groups of students from Omiya High School in Miyazaki City made presentations in English detailing their research on various issues related to natural or social science, with a focus on the posters they created. Students from UoM also conducted short presentations to introduce the overseas "Tobitata" scholarship program to the Omiya students.
A total of 79 Omiya third-year students, forming 24 research groups, participated in the poster session. The students were evaluated by around 20 judges, who included 8 international students at UoM, as well as the Vice-President and Director of UoM and other university staff.
In recent years, UoM and Omiya High School have cooperated in a range of areas in relation to Omiya High School's recognition as a "Super Global High School" by Japan's Ministry of Education, Culture, Sports, Science and Technology (MEXT). These efforts are aimed at contributing to fostering global human resources and internationalization and vitalization of the local area.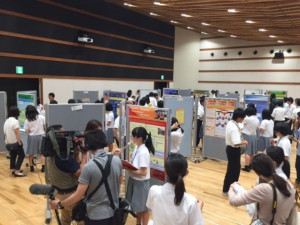 A view of the poster session.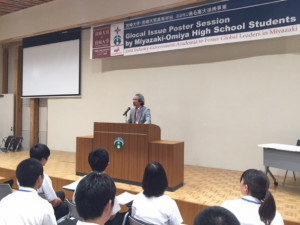 Prof. Suiko, Director of UoM, delivers his opening address.
Omiya High School students making their presentation.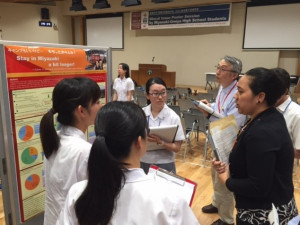 Students making their presentation as the judges and others listen.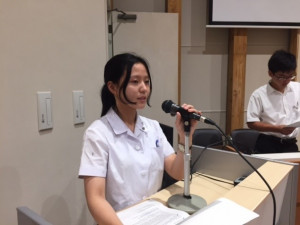 The "MC" of the event, from Omiya High School, making her remarks in English.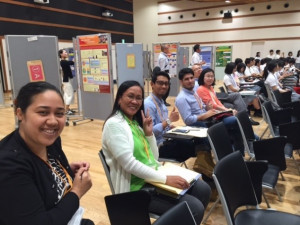 Some of the international students who were judges for the event.
UoM student Daisuke Kishita explains his overseas experiences to Omiya students.
UoM Student Karen Hayashi makes a presentation as an overseas scholarship student.