2018/05/22 published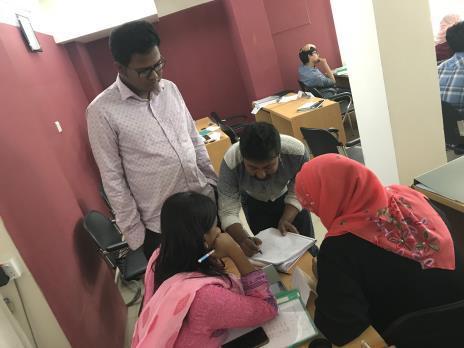 ↑ Scene from B-JET program training.
On March 4, 2018, the first three-month Bangladesh-Japan ICT Engineers Training (B-JET) program was completed in the Bangladesh capital Dhaka. The aim of the program is to train human resources in the ICT sector. The Bangladesh Minister of State for Information and Communication, Mr. Zunaid Ahmed Palak, attended the ceremony that was held for the trainees.
The B-JET program was launched in November 2017 in Dhaka through the support of Overseas Development Assistance of the Japan International Cooperation Agency (JICA) and the Bangladesh Computer Council (BCC). Three language teachers from the University of Miyazaki were dispatched to Bangladesh to take part as program instructors.
The twenty students who took part in the first round of the B-JET program received a certificate from the Minister at the ceremony. Thirteen of the trainees have received employment offers in Japan, and nine of them are going to the University of Miyazaki in April to take part in a short-term training program to learn Japanese and take part in business internships in Miyazaki City. The other seven trainees also aim to work in Japan and are now engaged in job-hunting.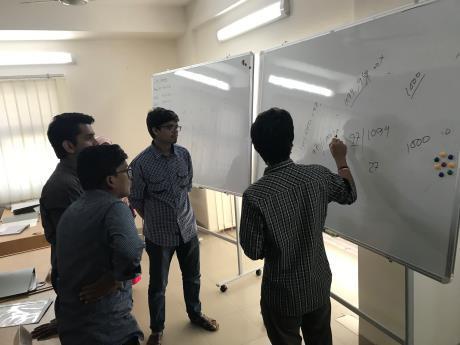 ↑ Fellow trainees learning together during the training.
A total of around 300 Bangladeshis are expected to take part in ICT training over a three-year period under the BJET program. The content will include not only Japanese language instruction provided by UoM teachers, but also the acquisition of knowledge and technology in line with the content of the Information Technology Engineers Examination (ITEE), a national examination on ICT technology administered in Japan. The program aims to help expand ICT-related employment opportunities in the developing country of Bangladesh, while also--through the collaboration between UoM and the software company Bangladesh Japan Information Technology (BJIT Limited)--supply technicians to Japanese corporations suffering from a shortage of highly trained personnel and also revitalize the local economy through activities in the ICT industry.
At the ceremony Mr. Palak noted that, "Whereas over 65% of the population in Bangladesh is of working age, Japan, the world's number-three economy, is facing a labor shortage." And he called on engineers and companies specializing in information technology and IT enabled services to take advantage of the great opportunities now available for expanding Bangladesh's export market.
↑ Speech by trainee representative at the completion ceremony.
Along with comments from the Minister, two graduating trainees delivered speeches. The speakers mentioned how the program had not only helped them acquire Japanese language skills and ICT knowledge and technologies but also learn about different values with regard to such things as time management and teamwork. They also said they felt grateful to have the opportunity to take part in the training and hoped that they could serve as a bridge between Bangladesh and Japan in the future.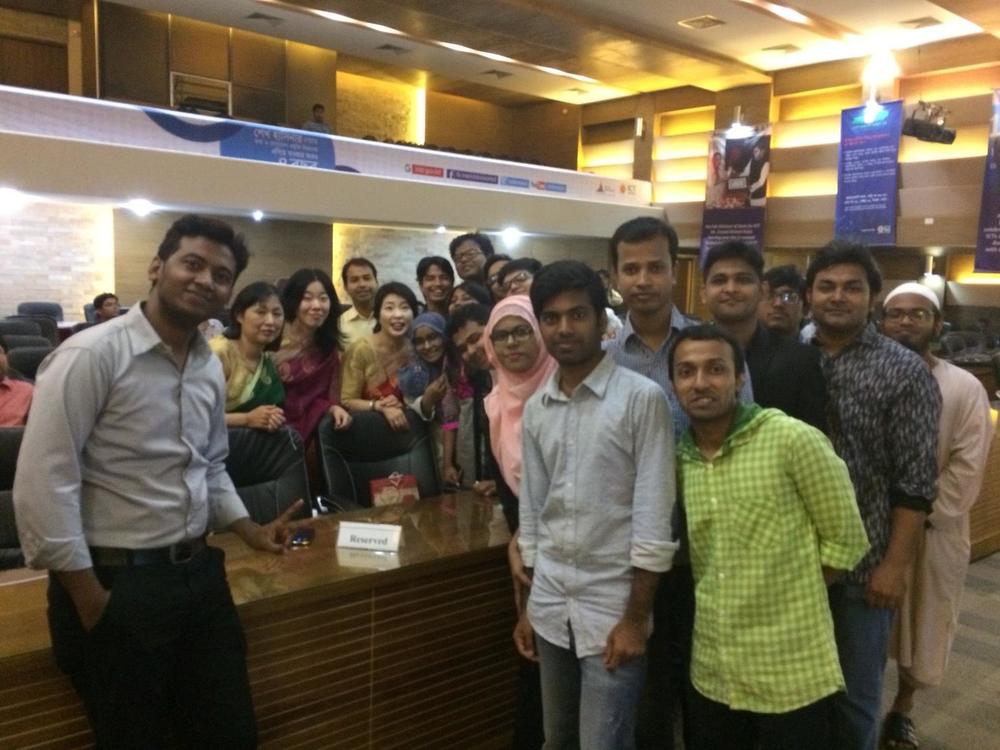 ↑ Commemorative photo at the completion ceremony.