2021/08/24 published
Posted on August 24, 2021
On Saturday, July 31, 2021, the University of Miyazaki (UoM) held its "Kick-off Symposium for Bangladesh Japan ICT Engineers' Training (B-JET) Program" for the first time at the University Library to commemorate the opening-course donated by SHINKOSHUPPANSHA KEIRINKAN CO., LTD. The event consisted of two sessions: the first session, Opening Ceremony; the second session, Symposium, including some overseas speakers who participated through ZOOM.
The first phase of the JICA project which was started in November 2017 till October 2020, UoM initiated the development of the "Miyazaki-Bangladesh Model" through which 51 people from Bangladesh were able to find employment in Miyazaki prefecture, as a result of the ICT Engineers' training program. During phase two which took off in April 2021, we continue the development of the project model based on the donated course.
The first session of the event was opened with a few words given by Dr. Tsuyomu Ikenoue, the President of the University of Miyazaki, which was followed by addresses from Ms. Kayoko Kitagawa (Representative Executive Director of SHINKOSHUPPANSHA KEIRINKAN CO., LTD), and Prof. Mohammad Khasro Miah (Director, Career and Placement Center, North South University), succeeded by a keynote presentation by Program-Specific Professor Shinnosuke Tasaka about the history and the future outlooks of the B-JET program.
In the second session, during the "Symposium", there was an opinion exchange from various perspectives on the future of multicultural society and economic development in the local community. After speeches by guests from the administrative and business community including the mayor of Miyazaki and the Chairperson of the Miyazaki Chamber of Commerce and Industry, three Bangladeshi B-JET graduates living in Miyazaki took the stage, and each reported their work and life experiences.
Next, a public talk was held by panel speakers with an in-depth knowledge of the "Miyazaki-Bangladesh Model". They referred to the supply and demand situation of ICT engineers and pointed out the need for a broader mutual understanding between Japanese companies and Bangladeshi ICT engineers. On the other hand, we found out that a strong supportive community has begun to take root in Miyazaki thanks to our warm-hearted approach for giving aid, which is altogether different from big cities'.
In conclusion, due to this symposium event, we together had a chance to garner valuable insights from various sources and the following information exchange with the attending participants, who had a high expectancy of us concerning the future and success of the program.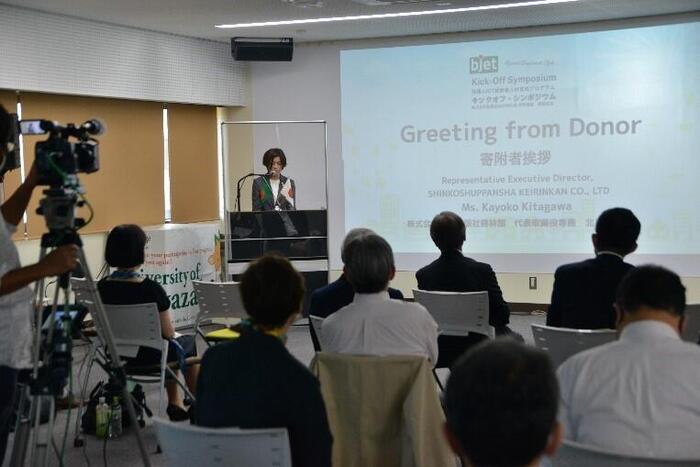 Greetings from Ms. Kayoko Kitagawa, Representative Executive Director
of SHINKOSHUPPANSHA KEIRINKAN CO., LTD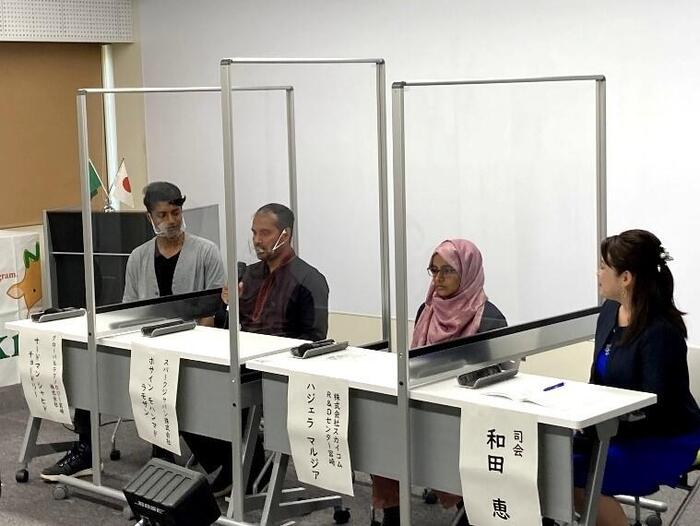 B-JET graduates currently living in Miyazaki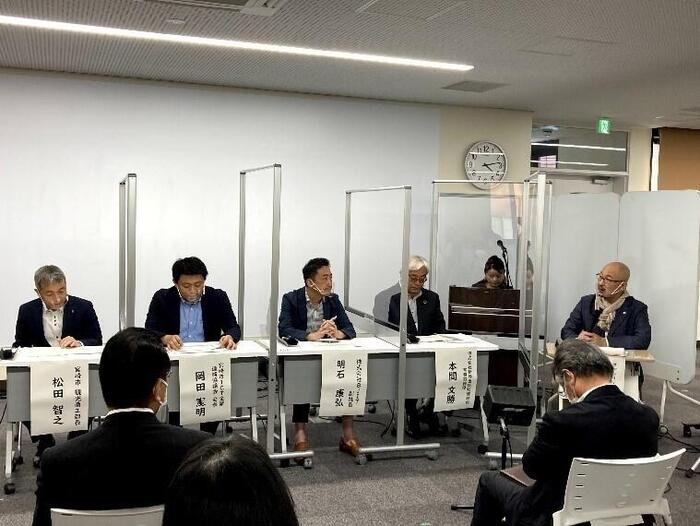 Public Discussion