2021/07/12 published
On March 29, 2021, Chargé d'Affairs a.i. Joseph M. Young, US Embassy Japan, visited the University of Miyazaki and engaged in an exchange of opinions with our UoM students.
This visit became a reality due to the establishment of the "American Information Desk" at the University Library, which was granted by the US Consulate in Fukuoka, when the library was renovated in 2020.
Upon arrival, Mr. Young was given a guided tour in English by two student representatives who showed him to the "Dr. Masatoshi Nei Exhibition Corner" on the 1st floor of the library and after that they visited the "American Information Desk" on the 3rd floor.
Later, he had an active discussion in English with 20 UoM students (including international students) and 20 participants who joined online, about studying abroad after the pandemic, understanding cultural differences and other additional topics. Mr. Young offered advice to all the students that it is important to think the other person's point of view in any situation, which is known as the proverb "Put yourself in someone else's shoes" in Western countries.
Even during this COVID-19 pandemic, the American Information Desk will continue its support to Japanese students who are eager or interested in studying abroad through online seminars and interactions with international students and will keep actively promoting international exchange at UoM.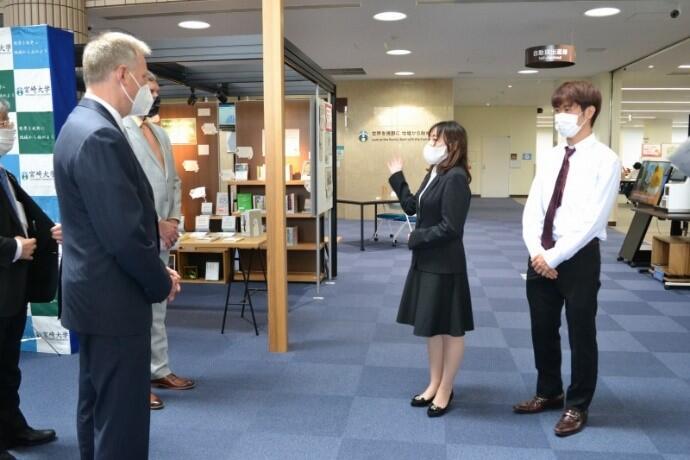 English guided library tour given by the students


Group photo


Opinion exchange meeting


Mr. Young experiencing a study-abroad consultation at the American Information Desk