Ye Htet さん
農学工学総合研究科
物質・情報工学専攻
数理情報工学教育コース 1年
Ye Htet さん
Q1

あなたの研究テーマについて教えてください。

Japan is the most rapidly aging country in the world and is in the current situation of "Super Aging Society". According to the statistics and reports, by 2030, the Japanese elderly (65 and beyond) is expected to increase to 37.16 million, constituting 31.2% of Japan's population. This assumption tells us that one in every three Japanese people will be 65 or older in 2030. The health of older adults is an increasing concern with this current rate of aging. Aging people spend about 60% of national healthcare costs and care centers play a vital role in ensuring that older people can live safely.
The objective of our research is to provide a quality long-term care that not only helps prevent difficulties and accidents but also enables older persons to live independently. We focused on recognizing daily activities and behaviors performed by the elderly at the care center using cameras and modern technologies without interfering the privacy. Our system is expected to provide insight to both caregivers and those cared for with lower costs by analyzing the experimental results. Hopefully, our research theme will enable transformational improvements in elder care in Japan coming years.
Q2

いつ頃から大学院博士後期課程への進学を意識しましたか?

After finishing my Master's course majoring in Electronic Engineering in Myanmar, I steadily changed my study area from the electronic field to the IT field. Then, I moved from my country to Japan in 2019 to seek challenges and explore some things new. At first, I worked as a part-time researcher at the University of Miyazaki for two years. I learned a lot of valuable lessons from my supervisor and senior colleagues as a researcher. During these times, I recognized that I still need to learn a lot of things in the new field. On the other hand, I noticed that the education system of Japan is at a higher level than most countries and it has a balanced system between theoretical and practical. I had the struggles of unbalancing theory and practical learning in the past. After realizing my situation, I decided to try this balance education in Japan. So, I started a new journey in October 2021 to chase my dream of a doctoral degree at the UoM.
Q3

大学院博士後期課程での学生生活について教えてください。

Starting from the first day of my journey, I have made friends with many international students and learned many different things from them. Moreover, I got a room at the International House of the University, and I like gathering and cleaning the dormitory every week. I love to participate in the activities, and I enjoy playing games, watching football matches, cooking, and sharing the different cultures of our countries together. Good friends are valuable in my life especially when I am apart from my family. I would seem that this socializing and learning are the keys to enjoying my university life.
Q4

次世代研究者挑戦的研究プログラムに採用後、何か変わりましたか?

As I am a privately funded student, I was worried about my financial situation such as the expenses of buying school supplies and publishing my research papers at first. After receiving support from this JST Support for Pioneering Research Initiated by the Next Generation, I was motivated more than before to embrace my student journey because I did not need to think that much about my financial state. It is obvious that I have more time to investigate my research, as I am enough with the support, and I do not need to do other part-time jobs too. As well, I enjoy participating in challenging and interdisciplinary research projects and meeting with other students from different study fields who are also supported by the program and have excellent research ideas.
Q5

将来の目標について教えてください。

After graduating from the University of Miyazaki, my ultimate goal is to become a computer vision engineer and work as a researcher in the research and development companies of Japan. Furthermore, I plan to solve real-world problems with my education in different research fields by collaborating with other computer vision researchers and specialists in their corresponding fields. Certainly, it is my firm belief that I would be able to participate and lead as part of the science and technology as well as innovation sector in Japan in the near future.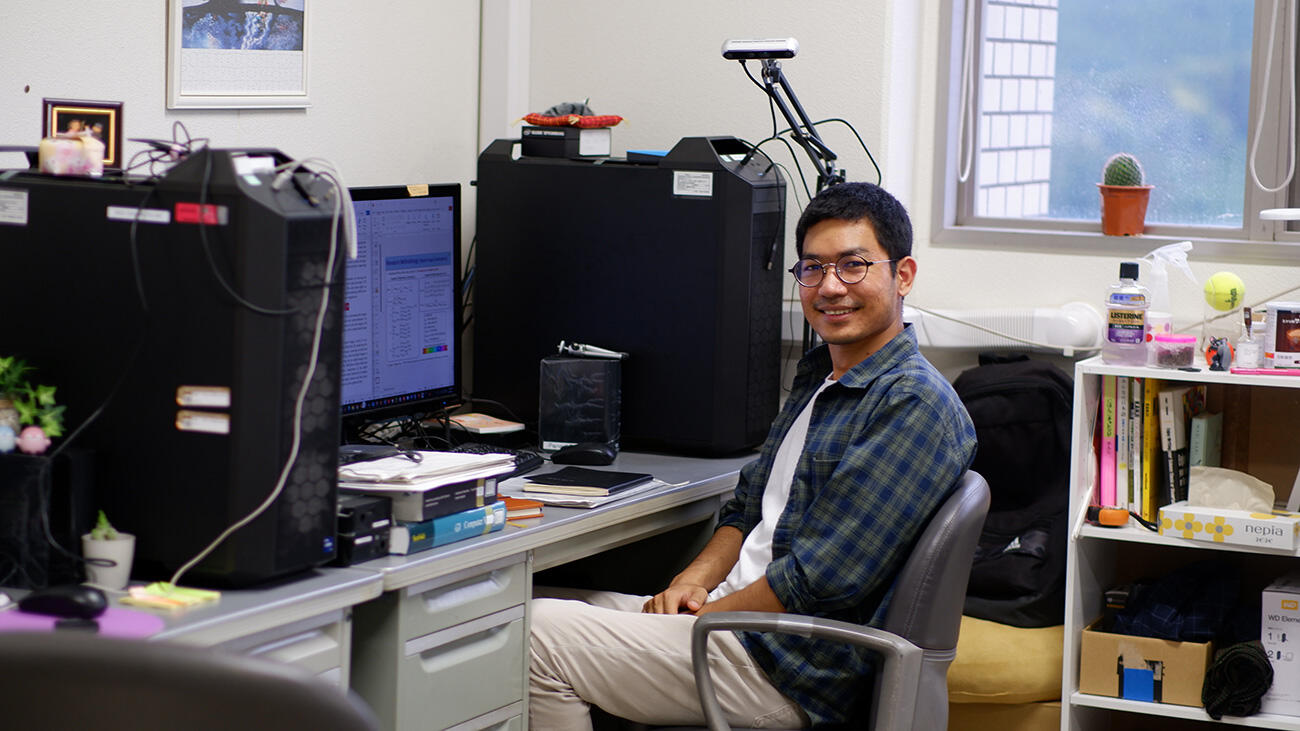 お問い合わせ
本事業に関するお問い合わせは、
以下へお願いします。
宮崎大学 次世代研究者支援室